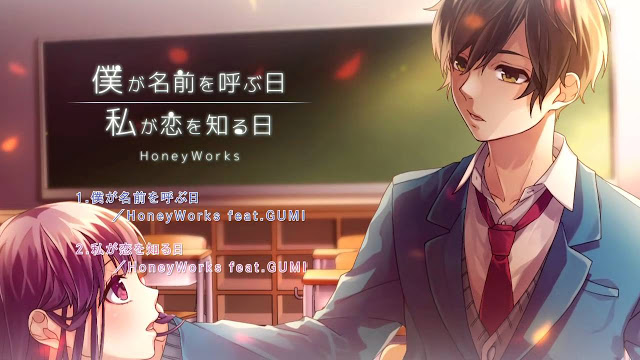 Yo Minna, Gimana kabarnya? Mudah-mudahan sehat selalu ya.. Nah, kali
ini mimin mau berbagi link download salah satu terbarunya lagunya Honeywork feat Gumi, yaitu "僕が名前を呼ぶ日 (Boku ga namae o yobu hi)". Lagu yang satu
ini menurut mimin berkesan manis dan imut gitu dengan suara Gumi
yang khas, apalagi kalau udah liat videonya :3
Nah, tenang saja, mimin juga akan ngeshare videonya kok bagi kalian yang belum tau.
yo
guys, what's up? I Hope you're always fine wherever you are. This time i
wanna share the download link of Honeywork feat Gumi's new song, "僕が名前を呼ぶ日 (Boku ga namae o yobu hi)". I think this song is so sweet and cute xD and sang by Gumi which has a typical voice.
And for you who still don't know who is Gumi! Don't worry, i will share the video too :3



Song Name: Boku ga namae o yobu hi [ 僕が名前を呼ぶ日]


Artist: Honeywork feat Gumi


Vocal: Honeywork feat Gumi
[Download Link]
Baiklah ini dia videonya lagunya 😀
And guys, as i promise, this is the Music Video
download anime boku ga namae o yobu hi sub indo