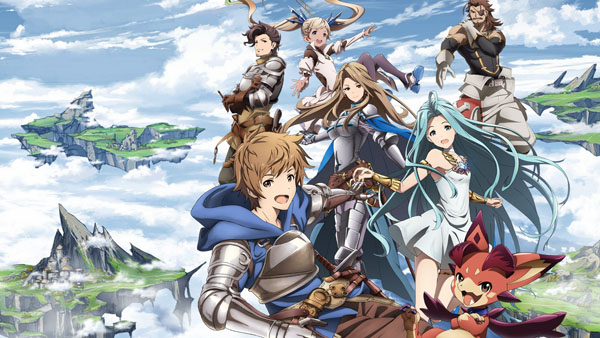 Yo Minna, kali ini mimin ingin berbagi lagu Ost opening dan ending Anime terbaru yaitu Granblue Fantasy The Animation. Lagu Opening nya dibawakan oleh BUMP OF CHICKEN dan berjudul "GO" . Sedangkan endingnya dinyanyikan oleh HARUHI yang judulnya "Sora no Parade (ソラのパレード)". 
Yo Everyone, this time i wanna share about "Granblue Fantasy The Animation" opening and ending songs. The opening song "GO" sang by  BUMP OF CHICKEN, and the ending song "Sora no Parade (ソラのパレード)" sang by HARUHI.
Sinopsis:
Ini adalah dunia dari langit, di mana banyak pulau melayang di langit. Seorang anak bernama Gran dan kadal bersayap berbicara bernama Vyrn tinggal di Zinkenstill, sebuah pulau yang dipenuhi misteri.
Suatu hari, mereka menemukan seorang gadis bernama Lyria. Lyria telah melarikan diri dari Erste Empire, pemerintah militer yang mencoba untuk menguasai dunia ini menggunakan kekuatan militer yang kuat. Dalam rangka untuk melarikan diri dari Kekaisaran, Gran dan Lyria melarikan diri keluar ke langit luas, memegang surat ayah Gran yang tertinggal – yang mengatakan, "Aku akan menunggu di Estalucia, Pulau Stars".
Synopsis:
This is a world of the skies, where many islands drift in the sky. A boy named Gran and a talking winged lizard named Vyrn lived in Zinkenstill, an island which yields mysteries. One day, they come across a girl named Lyria. 
Lyria had escaped from the Erste Empire, a military government that is trying to rule over this world using powerful military prowess. In order to escape from the Empire, Gran and Lyria head out into the vast skies, holding the letter Gran's father left behind – which said, "I will be waiting at Estalucia, Island of Stars".
Well guys, let's check it out!
Baiklah, langsung saja ini dia lagunya!
Lagu Opening  (Opening Song) Granblue Fantasy The Animation


"GO" by BUMP OF CHICKEN
Short Version/TV Size: Just Go ahead to Full Version 😀

Full Version : [Download Link]
Lirik Terjemahan – Lyrics Translation : Coming Soon
Lagu Ending (Ending Song) Granblue Fantasy The Animation


"Sora no Parade (ソラのパレード)" by HARUHI
Yosh minna, itulah dia lagu soundtrack opening dan ending Granblue Fantasy The Animation nya. Link download akan diperbaharui ke versi full ketika sudah tersedia. Jadi langganan disini ya 😀
Yosh, that's it, if you found that's still not full version, don't worry, the link will be updated to Full version when Available, so just subscribe this blog and you will get the notice when the full version updated.
Oh iya, disini kalian juga bisa request lagu, anime, review, game, dll.. Untuk mulai request, silakan kunjungi [Link Berikut]
download op grand blue
download opening grand blue
download ost grand blue
download lagu grand blue
download lagu opening grand blue
download opening granblue fantasy
download op granblue fantasy
download lagu op grand blue
grand blue op mp3
ost granblue fantasy the animation
download ost granblue fantasy
download lagu ending granblue fantasy
opening granblue fantasy