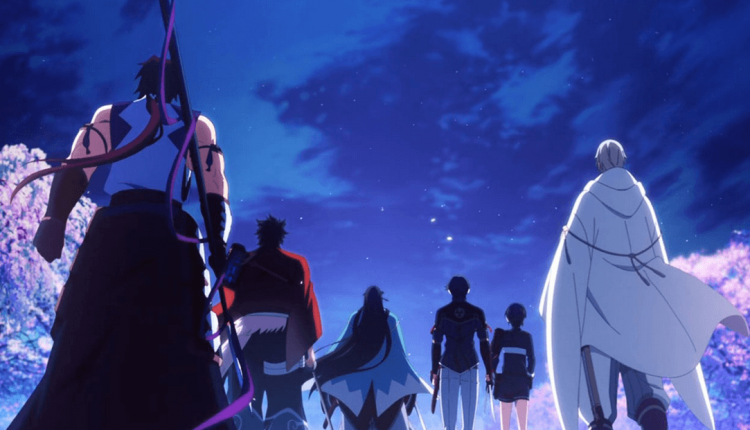 Hyakka Ryouran – Kalafina Lyrics Translation
Yo minna, kali ini mimin mau berbagi Lirik lagu Hyakka Ryouran (百火撩乱) yang dibawakan oleh Kalafina dan merupakan lagu Ending anime "Katsugeki Touken Ranbu"
====================================================================
Yo everyone, this time i want to share lyrics of Hyakka Ryouran (百火撩乱) by Kalafina, this song is the ending song from anime Katsugeki Touken Ranbu.
====================================================================
Song Name: Hyakka Ryouran (百火撩乱)
Artist: Kalafina

Vocal: Kalafina
Anime Soundtrack: Katsugeki Touken Ranbu Ending Song

=========================================
Original Lyrics:
yume o mite bokura wa naita
namida o motanu hazu no
hagane no kokoro de
sadame o omotta
chigau yoake no iro o inori
nani o mamoru tame ni mata
kieta toki o samayotte
horobi e to kakenukeru
hikari hanatsu yaiba
ano toki kiete itta
akai niji no kanata ni wa
kimi ga mita sekai ga mada
mezame o shirazu ten ni atte
hana no you ni saku honoo no naka ni
ima mo tatazumu bokura no sugata
kizamikomareta michi ni kooru
kudaketa yume no ato
nokosareta bokura wa kitto
sabita kusari o tsunagu saigo no kakera de
mitodoketa yoru no
tsuki no hikari o aoku yadosu yaiba
mamoritai to omou no wa
kimi ga yume o mita sekai
hikari e to kakenuketa
sono michi no mabushisa
omoi o nokoshita mama
kokoro wa chitteiku keredo
yakeochita michi o tadori
amata no yume ga ima mo sora o kogasu
itsuka honoo wa ten ni todoku
===============================================
Kanji Lyrics:
夢を見て僕らは泣いた
涙を持たぬ筈の
鋼の心で
運命(さだめ)を思った
違う夜明けの色を祈り
何を守る為にまた
消えた時を彷徨って
滅びへと駆け抜ける
光放つ刃
あの時消えて行った
紅い虹の彼方には
君が見た世界がまだ
目醒めを知らず天にあって
花のように咲く炎の中に
今も佇む僕らの姿
刻み込まれた道に凍る
砕けた夢の痕
残された僕らはきっと
錆びた鎖を繋ぐ最後の欠片で
見届けた夜の
月の光を蒼く宿す刃
守りたいと思うのは
君が夢を見た世界
光へと駆け抜けた
その道の眩しさ
思いを残したまま
心は散って行くけれど
焼け堕ちた道を辿り
数多の夢が今も空を焦がす
いつか焔は天に届く
===============================================
English translation Lyrics
Witnessing our dream, we cried,
Despite believing our steel hearts
Contained no tears.
We wished for the dawn of fate
To be colored differently.
In order to protect something (even now),
We wander this era we've come to understand.
We run onward toward destruction
With swords emanating light.
The world you witnessed
Beyond a red rainbow,
Vanished some time ago. But it still awaits,
Unwaking, within the heavens.
Inside a flame that blooms like a flower
Our images remain standing still.
Frozen upon paths carved out for us
Are the remains of crushed dreams.
Those of us who remain
Hold the final piece to connect this rusted chain.
That night we witnessed to the end
Has imbued our blades with pale moonlight.
I find myself wanting to protect
The world you dreamed of—
The brightness of our path
As we ran on toward the light.
We leave feelings behind
As our hearts scatter.
But following this burnt path,
Our many dreams still scorch the sky.
Someday, our flame will reach the heavens.
===============================================
Terjemahan Indonesia:
Menyaksikan mimpinya, kami menangis,
Meski percaya hati baja kita
Tak ada air mata.
Kami berharap untuk fajar takdir
Untuk diwarnai berbeda.
Untuk melindungi sesuatu (bahkan sekarang),
Kami mengembara era ini kita sudah mulai mengerti.
Kami terus maju menuju kehancuran
Dengan pedang memancarkan cahaya.
Dunia yang Anda saksikan
Di balik pelangi merah,
Sudah hilang beberapa waktu yang lalu. Tapi masih menunggu,
Unwaking, di dalam langit.
Di dalam api yang mekar seperti bunga
Citra kita tetap berdiri diam.
Beku pada jalan yang diukir untuk kita
Apakah sisa-sisa mimpi hancur?
Kita yang tetap tinggal
Pegang bagian akhir untuk menghubungkan rantai berkarat ini.
Malam itu kita menyaksikan sampai akhir
Telah mengilhami pisau kami dengan cahaya bulan pucat.
Saya menemukan diri saya ingin melindungi
Dunia yang Anda impikan-
Kecerahan jalan kita
Saat kami berlari menuju cahaya.
Kami meninggalkan perasaan di belakang
Saat hati kita berserakan.
Tapi mengikuti jalan yang terbakar ini,
Banyak mimpi kita masih menghujani langit.
Suatu hari, nyala api kita akan sampai ke langit.
===============================================
Terjemahan Indonesia oleh: Google translate
English Translation by: Lyrical-Nonsense
Yosh minna, itulah dia lirik lagu Hyakka Ryouran (百火撩乱) nya. Selamat menghafal ya! 😀
====================================================================
Well Guys, that's the lyrics, hope you like it, and don't forget to subscribe this blog to see new updates, see you 😀