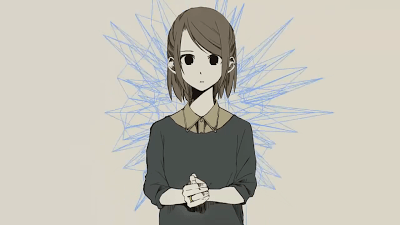 Yo minnan san, o genki desu ka? Mimin wa genki desu 😀
Nah kali ini mimin mau berbagi lagu lagi nih, kali ini lagu yang dibawakan oleh [VY1V4] Fairy Tale, Fairy Tale itu judulnya 😀
BACA JUGA: Download Lagu Kimi no na wa lengkap
Nah, langsung saja nih link informasi lagunya, selamat menghafal liriknya dan selamat download 😀
Song Title
"Fairy Tale"
Singer
[VY1V4]
Mp3 Link
Lyrics:
Kanji

Romaji
English
あの日みたいな朝靄がかかる
ano hi mitai na asamoya ga kakaru
A morning mist like that one day comes into view.
足がもつれては、手を取った 
ashi ga motsurete wa, te wo totta
My legs caught on each other, and you took my hand.
解けない魔法のような御伽話覚えてる?
tokenai mahou no you na otogibanashi oboeteru?
Do you remember your unsolved magic-like fairytale?
続きがまだ…うん、また話すね
tsuzuki ga mada…un, mata hanasu ne
Its continuation still… Mm, I'll tell it again, 'kay.
暗い海に浮かぶ二人が 寂しくないように
kurai umi ni ukabu futari ga sabishiku nai you ni
So as that a couple floating in a dark sea wouldn't be lonely,
神様がきっと少しだけきっと 許した時間
kamisama ga kitto sukoshi dake kitto yurushita jikan
God surely, for just a little bit, surely permitted the time.
重なり合う星のモノグラムに応えて
kasanari au hoshi no monoguramu ni kotaete
Responding to the monogram of the overlapping stars,
あなたが来てるんだ 声を張り上げて軌道上の先へ
anata ga kiterunda koe wo hari agete kidou jou no saki e
You are coming. Raise your voice above their orbit.
あなただけの輝きに憧れ続けてたの
anata dake no kagayaki ni akogare tsuzuketeta no
I've continued to yearn for the sparkling of yours only,
真っ白なまま過ごしたあの頃には戻れないのに
masshiro na mama sugoshita ano koro ni wa modorenai noni
Despite being unable to return to that time that passed, pure white as it was.
別れの刻はすぐにやってきて
wakare no toki wa sugu ni yatte kite
The time of farewell will come soon,
話したかったことも半分くらいで
hanashitakatta koto mo hanbun kurai de
And the things we wanted to talk about too will be about half;
「せわしない日だね。」って笑い合う
"sewa shinai hi da ne" tte warai au
The couple that laughed together, "The day's sure in a hurry",
二人は再会の環に思いを馳せた
futari wa saikai no wa ni omoi wo haseta
They hastened their thoughts to the circle of reunion.
時の魔力が変えた 枝垂れ桜の遊歩道も 心も
toki no maryoku ga kaeta shidare zakura no yuuhodou mo kokoro mo
Even if you notice both promenade of the weeping cherry trees
気付いてしまっても振り向かないでね
kizuite shimatte mo furi mukanai de ne
That the charm of time changed and my heart, do not look over your shoulder, 'kay.
白ほど染まりやすい色はないの
shiro hodo somari yasui iro wa nai no
There's no color that's easily dyed white.
一人では輝けない私からね
hitori de wa kagayake nai watashi kara ne
It's since I can't shine alone.
御伽話の続きがあるの 聞いておいて
otogibanashi no tsuzuki ga aru no kiite oite
There is a continuation to your fairytale. Listen up.
久しぶりね
hisashi buri ne
Long time no see, huh?
重なり合う鼓動が命の瞬きを教えてくれてる
kasanari au kodou ga inochi no mabataki wo oshiete kureteru
Our overlapping pulses teach us of the sparkling of our lives.
誰の愛を受けても消えないでしょう
dare no ai wo ukete mo kienai deshou
Even if you receive someone's love, it won't vanish.
あと数秒で離れていく星を見送るなら
ato suubyou de hanarete iku hoshi wo mio kuru nara
If I see off the stars that're going away after a few seconds,
例え何千年経っても会えるから そういう話よ 約束ね
tatoe nanzen nen tatte mo aeru kara sou iu hanashi yo yakusoku ne
I mean, since we'll meet even after several thousand years pass, it's that sort of a story. It's a promise.
約束ね
yakusoku ne
It's a promise.