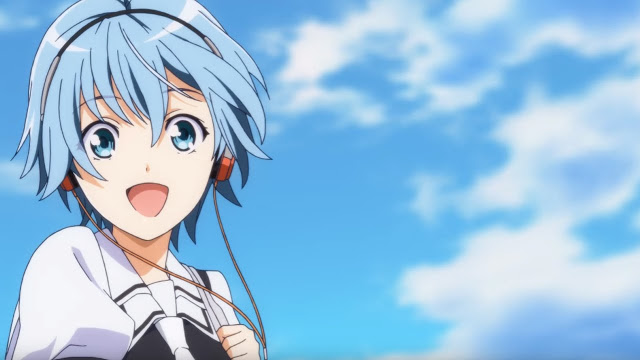 Yo minna, kali ini mimin mau berbagi terjemahan lirik lagu Climber's High! yang dibawakan oleh Manami Numakura dan merupakan lagu Opening anime "Fuuka"
Yo
everyone, this time i want to share the lyrics of Climber's High, this
song is the Opening song from anime Fuuka.
Let's Check it out!

Song Name: Climber's High!
Artist: Manami Numakura
Vocal: Manami Numakura
Anime Soundtrack: Fuuka
[Download Link]
Romaji Lyrics :
tadoritsukeru to shinjiteta basho wa takaku, tooku
genjitsumi nakushita yakusoku kasumu kimi no kotoba
hitonami o hazureteyuku kage hohaba awaseru ki no nai kodou
tada mukankei da tte nagameteta
ripiito sareteku kikiakita hibi ni
noriokurenai you ni koushin shitemo
tokekometeinai iradachi ga semarikuru
hako no naka kokoro ga surihetteyuku kaki kesareteyuku nara
moetsukiru kakugo de shikakui sora o tatakiwareru dake
kokoro ni atsui kaze matotte kakeagatteikou ze
tsunagitomeru kusari hikichigitte mikansei o tokihanatte
owarikukuru sono shunkan made wa Climber's High
daremo kowasenai hagane no yume todoke sekai no hate mademo
hitomi ni yadoru hikari no kakera ga kurayami o kirisaiteyuku
open your eyes wakiagaru shoudou ni shitagae
motto motto tsuyoku nozomeba kitto kitto takaku toberu sa
zutto zutto motometsudzuketa ano basho e
ripurei sareteku koukai no hibi ni
oshinagasarenai you ni aragattemo
modoranai omokage ga izanau kioku no naka no kokoro
ushinatteyuku wasuresatteyuku nara
furishikiru itami o uketometa mama hashiridasu dake
ima sugu atsui kaze matotte habataiteikou ze
todokanai sora o mezasu tame no fukanzen na tsubasa de
I believe I can fly to the sky if I try to reach my Climber's High
boku shika mirenai setsuna no yume hibike sekai no hate mademo
Seasons changing And memories fading
Time is waiting For my heart to move on
I look to the light With wings wide open
The wind will take me To my place in the sky
kyokugen ni tasshita hakudou fukitobu kyoufushin
eien ni omoeru kyori o kasoku shite kaze o kiri
zetsubou o koete mieta keshiki wa mugen ni
hirogaru shiroi sekai to owaranai sora no aosa dake
English Translation:
The place I believed I could reach was high and far
Promises lost reality Masaru's yours
A shadow that goes out of a human wave Walking pace matching a pleasant heartbeat
But … I was watching it irrelevant
Have to repeat Listen to the tired days
Even if I update it so as not to miss it
Irritability not melting down approaches
If the center of the box wears off and it gets scratched off
Just breaking the square sky at the prepared burnout
Let's run up in a hot wind in the mind and go up.
Tear off chain and release unfinished
Until the end comes, Climber's High
Delivering a dream of steel that no one can break Even the end of the world
A light shining in the eyes pierces the darkness
Open your eyes Following rippling urge
I'm surely able to jump higher if I want more strongly
To that place that I have been sought all the time
On the days of regret being replayed
Even if you resist against being swept away
The mind in memory that invades not return
If you forget to lose
Just run running out of getting down pain
Let's just flutter with a hot wind and let it go
With incomplete wings to aim for the sky that does not reach
I believe I can fly to the sky if I try to reach my Climber's High
Sotetsuna's dreams that I can only see The end of the world
Seasons changing And memories fading
Time is waiting For my heart to move on
I look to the light wings wide open
The wind will take me to my place in the sky
Beat that reaches the limit Limited fear of blowing away
Accelerate the distance that seems eternally and cut the wind
The scenery that seemed beyond despair was infinite
Only the sky blueness which does not end with the spreading white world
Let's run up in a hot wind in the mind and go up.
Tear off chain and release unfinished
Until the end comes, Climber's High
Delivering a dream of steel that no one can break Even the end of the world
Kanji Lyrics:
辿り着けると信じてた場所は高く遠く
現実味無くした約束 霞む君のコトバ
人波を外れていく影 歩幅合わせる気のない鼓動
ただ・・・ 無関係だって眺めてた
リピートされてく聞き飽きた日々に
乗り遅れないように更新しても
溶け込めていない苛立ちが迫り来る
箱の中心が磨り減っていく掻き消されていくなら
燃え尽きる覚悟で四角い空を叩き割るだけ
心に熱い風纏って駆け上がって行こうぜ
繋ぎ止める鎖引きちぎって 未完成を解き放て
終りが来るその瞬間まではClimber's High
誰も壊せない鋼の夢届け 世界の果てまでも
瞳に宿る光のカケラが暗闇を切り裂いてゆく
open your eyes 湧き上がる衝動に従え
もっともっと強く望めば きっときっと高く跳べるさ
ずっとずっと求め続けた あの場所へ
リプレイされてく後悔の日々に
押し流されないように抗っても
戻らない面影が誘う記憶の中の心
失っていく忘れ去っていくなら
降りしきる痛みを受け止めたまま走り出すだけ
今すぐ熱い風纏って羽ばたいて行こうぜ
届かない空を目指すための不完全な翼で
I believe I can fly to the sky if I try to reach my Climber's High
僕しか見れない刹那の夢響け 世界の果てまでも
Seasons changing And memories fading
Time is waiting For my heart to move on
I look to the light With wings wide open
The wind will take me To my place in the sky
極限に達した拍動 吹き飛ぶ恐怖心
永遠に思える距離を加速して風を切り
絶望を超えて見えた景色は無限に
広がる白い世界と 終わらない空の青さだけ
心に熱い風纏って駆け上がって行こうぜ
繋ぎ止める鎖引きちぎって 未完成を解き放て
終りが来るその瞬間まではClimber's High
誰も壊せない鋼の夢届け 世界の果てまでも
Terjemahan Indonesia: Coming Soon


Yosh
minna, itulah dia lirik lagu Climber's High! nya. Selamat menghafal ya, dan terjemahan Indonesianya menyusul 😀
Well
Guys, that's the lyrics,hope you like it, and don't forget to subscribe this blog to see
new updates, see you 😀
BACA JUGA: Download Opening & Ending Akiba Trip The Animation
BACA JUGA: Wagamama MIRROR HEART – Ayaka Ohashi Lyrics
BACA JUGA: Download Opening & Ending Ao no Exorcist: Kyoto Fujouou-Hen
Oh iya, disini kalian juga bisa request lagu, anime, review, game, dll.. Untuk mulai request, silakan kunjungi
[Link Berikut]
lirik lagu climbers high
lirik climbers high
lirik lagu climber high
climbers high lyrics
lirik climber high