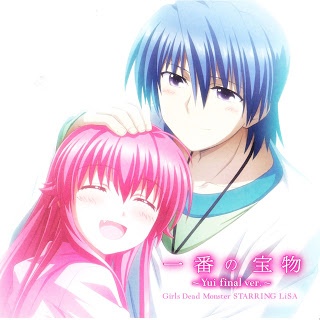 Top 15 Lagu Anime versi Akustik Menenangkan Hati – Yo minna san, selamat datang kembali, kali ini mimin ingin berbagi lagu anime versi akustik yang menenangkan jiwa kamu nih.
Lalu pada tau nggak versi akustik itu versi apa? Singkatnya versi akustik adalah versi gitar, dengan kata lain sebuah lagu yang dinyanyikan yang hanya diiringi alunan alat musik gitar.
Lalu hebat banget ya bisa nenangin jiwa? Yup karena vocal dari penyanyi dan alunan gitarnya yang indah membuat jiwa terasa adem dan tenang saat mendengarkan lagunya
Sangat direkomendasikan bagi kalian yang suka lagu tenang dan menyukai ketenangan, menikmati alunan lagu yang santai disaat sendiri, duh indah banget ya, hahaha ?
Kalian pasti udah pada penasaran dan pengen dengar lagu-lagunya, kan? Yosh, sekarang kita masuk ke ulasannya, yuk disimak ?
1. Ichiban no Takaramono – Lisa
Yang udah nonton anime Angel Beats pasti tau lagu ini. Lagu yang satu ini udah cukup lama, namun selalu nyaman didengarkan kapanpun dan pada momen apapun.
Tak lekang oleh waktu, mungkin itu kalimat yang cocok untuk menggambarkannya. Dibawakan oleh Lisa yang memang banyak menyanyikan lagu-lagu anime yang bagus.
Download Disini==> [Download Link]
 2. Wherever You Are Akustik Aransemen- One Ok Rock
"Wherever you are I always make you smile, wherever you are i'm always by your side…" Lagu yang satu ini merupakan salah satu favorit mimin.
Liriknya sangat indah, seperti judulnya jika diartikan Dimana pun kau Berada.. Dan versi akustiknya memberi kesan tersendiri dari lagu ini
Download Disini==> [Download Link]
3. Tokyo – Yui
Penggemar Lagu Jepang pasti sudah nggak asing lagi dengan Yui, Yui selalu dikenal sebagai penyanyi yang memiliki suara khas dan sangat cocok banget dengan alunan akustik. Contohnya pada lagu Tokyo ini yang merupakan salah satu favorit mimin
Download Disini ==> [Download Link]
4. Orange – 7 Oops! Akustik (Shigatsu wa Kimi no Uso Ending 2)
Lagu ending kedua Shigatsu wa Kimi no Uso versi akustik ini ditampilkan sebagai credit song pada animenya.
Lagu yang sangat baper menurut mimin, apalagi mimin dengarnya pas lagi baper-bapernya baru abis nonton Shigatsu, dan liriknya memang indah..
Download Disini ==> [Download Link]
5. In the Rain – Tori
Versi asli lagu ini dinyanyikan oleh Hatsune Miku, tapi versi cover akustik dari Tori adalah yang terbaik. Tori sendiri adalah seorang Utaite dengan suara khas yang mirip seperti suara Yui.
Mimin sendiri menjulukinya sebagai "Versi lembut Yui" atau "Yui kedua", karena suara mereka benar-benar terasa mirip, dan di lagu ini sendiri menunjukkan kualitas suara Tori.
Baca Liriknya Disini ==> [Klik Disini]
Download Disini ==> [Download Link]
6. Eine Kleine – Mafumafu

Lagu yang satu ini sangat enak dan nyaman dibawa santai, suasana lagunya juga asyik, walaupun sebenarnya lagu galau, namun versi yang dibawakan Mafumafu benar-benar berbeda dari aslinya.
7.  Close to You Acoustic Version – Len Kagamine ft. Kanon
Beralih ke Vocaloid, lagu Close to You versi akustik yang dibawakan Len featuring Kanon ini cukup nyaman untuk didengarkan, lirik lagunya memang galau, tapi karena beda versi jadi beda suasana.
Baca Liriknya Disini ==> [Klik Disini]
Download Disini ==> [Download Link]
8. Fallin' – Zhiend (Charlotte)
Lagu Zhiend yang merupakan insert song dalam anime Charlotte ini sangat sensansional pada saat anime Charlotte lagi booming-booming nya, dan memang lagunya pun nyaman didengarkan.
BACA JUGA: Download Lagu Zhiend Charlotte Lengkap
Sangat cocok untuk didengarkan dalam suasana santai dan rileks di malam hari.
Baca Liriknya Disini ==> [Klik Disini]
Download Disini ==> [Download Disini]
9. Toki no Mahou – Setsuna Ogiso White Album 2
Lagu ini mungkin hanya diketahui sebagian orang dari White Album karena tidak dijadikan salah satu pengisi lagu dalam animenya, namun lagu ini dinyanyikan oleh Ogiso Setsuna dalam sebuah credit.
Yah walau mimin juga kurang tau itu official atau enggak, tapi lagunya bagus, dan alirannya slow, seperti lagu galau. Dan yang pastinya enak didengarkan.
Download Disini ==> [Download Link]
10. Heartache Acoustic – One Ok Rock
Lagu pengisi ending 'Rurouni Kenshin III: The Legend end' Live Action ini merupakan salah satu lagu One Ok Rock favorit mimin, dan versi akustiknya juga sangat bagus dalam mengisi suasana kesendirian.
Download Disini ==> [Download Link]
BACA JUGA: Top 24 Lagu Opening Anime Terbaik 2016
11. Summertime Record – Mafumafu
Mafumafu memang memberi warna tersendiri dalam lagu akustik, dan soundtrack dari Anime Mekakucity Actors yang di aransemen akustik oleh Mafumafu dengan sangat baik.
Lagu ini juga memberikan kesan ketenangan dan kenyamanan bagi siapapun yang mendengarnya, dengan alunan gitar yang lembut yang akan memanjakan telinga kalian nih minna san.
Download Disini ==> [Download Link]
12. Calc Acoustic version – Shounen T
Lagu yang satu ini dibawakan oleh Shounen T, seorang Utaite sama seperti Mafumafu, dan dia juga sering membawakan lagu-lagu dengan nuansa aransemen akustik.
Lagu calc ini sendiri versi aslinya adalah Piano, tapi diaransemen dengan baik oleh Shounen menjadi sebuah versi akustik yang menenangkan.
Baca Liriknya Disini ==> [Klik Disini]
Download Disini ==> [Download Link]
13. Goodbye Days – Yui
Ini nih lagu Yui yang dulu mimin paling suka, Goodbye Days.. Lagu ini dulu sangat sering mimin nyanyiin, dan lagu ini juga yang bikin mimin nge fans sama Yui selain lagu Life.
Yui sendiri membawakan lagu ini sebagai pengisi soundtrack filmnya yaitu Taiyo no Uta. Lagunya santai dan berkesan slow, namun juga memiliki arti yang mendalam.
Download Disini ==> [Download Link]
14. Sayoko – Tori
Selain lagu In the Rain, lagu Sayoko ini juga merupakan salah satu lagu yang ngademin banget buat didengerin, dengan alunan gitar yang santai serta suara Tori yang ngademin, membuat lagu ini sesuatu banget dan layak masuk dalam list ini.
Download Disini ==> [Download Link]
15. Goodbye Days – Shounen T
Lah, kok goodbye days lagi? Yah karena baik versi asli Yui dan versi ShounenT sama-sama bagus dan sesuai dengan tema postingan kali ini adalah lagu akustik yang menenangkan hati.
Jadi ya daripada galau milih versi yang mana ya mimin masukin aja 2 2nya, sama-sama bagus kok, toh kalau kalian download dan dengerin ntar kalian juga tau sendiri yang mimin maksud ?
Download Disini ==> [Download Link]
Yosh, itulah dia 15 Lagu Anime versi Akustik yang Menenangkan Hati terbaik versi AnimeXGameBukatsu, oh ya disini kalian juga bisa lho request lagu, lirik, dll.. Untuk request sesuatu silakan kunjungi [Link Berikut]
Nah, bagi kalian yang ingin mendownload lagu pilihan lainnya silakan [Klik Disini]
BACA JUGA: 10 Lagu Anime Jepang Semangat dan Mood Booster Terbaik
lagu jepang akustik
download lagu versi acoustic
lagu akustik jepang
download lagu versi akustik gitar
download lagu cover akustik terbaik
download lagu jepang akustik
lagu akustik
Download lagu akustik
lagu anime yang mudah dimainkan dengan gitar
lagu jepang acoustic in the rain
lagu anime akustik terbaik
Lagu akustik jepang yang enak didengar
Lagu akustik anime enak
download lagu jepang acoustic
Kumpulan lagu jepang acoustik
download lagu anime acoustic versi
download lagu jepang akustic
download lagu jepang acoutic
anime akustik mp3