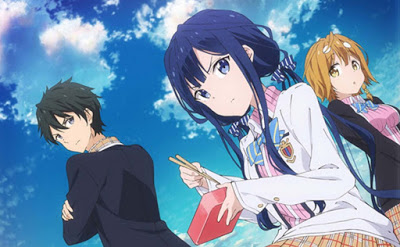 Yo minna, kali ini mimin mau berbagi lirik lagu Elemental World yang dibawakan oleh Choucho dan merupakan lagu ending anime "Masamune-kun no Revenge"
Yo everyone, this time i want to share the lyrics of Elemental world, this song is the ending song from anime Masamune-kun no Revenge.
Let's Check it out!

Song Name: Elemental World
Artist: Choucho
Vocal: Choucho
Anime Soundtrack: Masamune-kun no Revenge Ending
[Download Link]
Romaji Lyrics :
toorisugiru kisetsu ya machi no supiido hayasugite
jibun o ushinai michi ni mayotta sono toki wa
me o toji kokoro no umi ni daibu shite
fukaku fukaku oyoida nara kotaega miero yo kitto
everything is inside of me
and everything is up to me!
taiyou no hikari sae tsutsumikomu aosa de
for a love that's all rocked up
mune no naka ni shimatteita
taisetsu no ano kioku toki ga tattemo
kawaranai omoi shinjiteru


English Translation: Coming Soon
Yosh minna, itulah dia lirik lagu Elemental World nya. Itu masih versi short, tapi tenang saja, lirik akan diupdate menjadi full jika sudah tersedia 😀
Well Guys, that's the lyrics, for english translation and full lyrics version will be updated when available, so subscribe this blog to see new updates, see you 😀
BACA JUGA: Download Opening & Ending Akiba Trip The Animation
BACA JUGA: Wagamama MIRROR HEART – Ayaka Ohashi Lyrics
BACA JUGA: Download Opening & Ending Ao no Exorcist: Kyoto Fujouou-Hen
Oh iya, disini kalian juga bisa request lagu, anime, review, game, dll.. Untuk mulai request, silakan kunjungi
[Link Berikut]