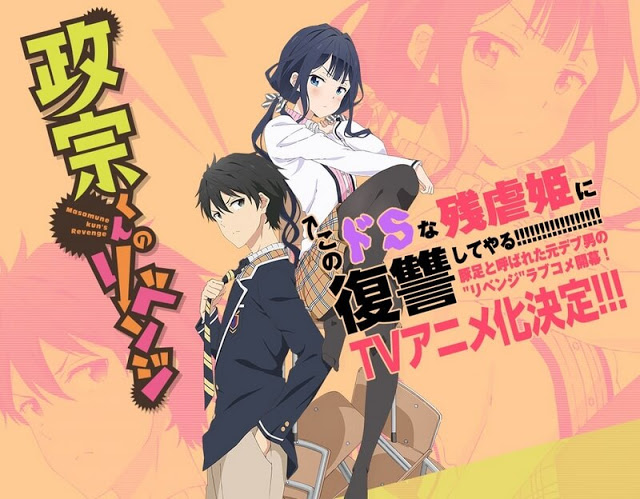 Yo Minna san, selamat tahun baru 2017 ya.. Nah, di awal tahun ini mimin ingin berbagi lagu Ost opening dan ending Anime terbaru yaitu Masamune-kun no Revenge. Lagu Opening nya dibawakan oleh Ayaka Ohashi dan berjudul Wagamama Mirror Heart. Sedangkan endingnya dinyanyikan oleh Choucho yang judulnya Elemental World.
Yo Everyone, happy new year 2017.. Yosh, on this new year i wanna share about "Masamune-kun no Revenge" opening and ending songs. The opening song Wagamama mirror heart sang by Ayaka Ohasi, and the ending song Elemental World sang by Choucho.
Sinopsis:
Sebagai seorang anak, Masamune Makabe sekali sangat menderita di tangan seorang gadis kaya dan cantik bernama Aki Adagaki, yang menjulukinya "Piggy" karena penampilan gemuk nya. Mencari balas dendam terhadap penyiksa nya, Masamune bekerja keras untuk memperbaiki dirinya sendiri dan mengembalikan sebagai narsis, siswa SMA sangat tampan, meskipun. Ketika ia bertemu Aki sekali lagi, dia siap untuk melakukan pembalasan.
Dengan bantuan pembantu gadis kaya, Yoshino Koiwai, Masamune perlahan-lahan mulai membangun hubungannya dengan Aki, berniat untuk menghancurkan hatinya ketika waktunya tepat. Namun, seperti persahabatannya dengan Aki mulai tumbuh, Masamune mulai mempertanyakan tujuan dari rencana licik, dan jika membawa mereka ke hasil yang hatinya benar-benar keinginan.
Synopsis:
As a child, Masamune Makabe once suffered greatly at the hands of a wealthy and beautiful girl named Aki Adagaki, who nicknamed him "Piggy" due to his chubby appearance. Seeking revenge against his tormentor, Masamune works hard to improve himself and returns as an incredibly handsome, albeit narcissistic, high school student. When he encounters Aki once again, he is prepared to exact vengeance.
With the aid of the rich girl's maid, Yoshino Koiwai, Masamune slowly begins to build his relationship with Aki, intending to break her heart when the time is right. However, as his friendship with Aki begins to grow, Masamune starts to question the objectives of his devious plans, and if bringing them to fruition is what his heart truly desires.
Well guys, let's check it out!
Baiklah, langsung saja ini dia lagunya!
Lagu Opening (Opening Song)


"Wagamama MIRROR HEART (ワガママMIRROR HEART)" by Ayaka Ohashi
Lagu Ending (Ending Song)


"Elemental World" by ChouCho
Yosh minna, itulah dia lagu soundtrack opening dan ending Masamune-kun no Revenge nya. Itu udah full versi semua, selamat mendownload dan jangan lupa langganan disini ya 😀
Yosh, that's it, it's all full version now, Enjoy download, don't forget to subscribe this blog and you will get the notice when the new songs updated. To find out other anime songs, just 
[Click Here]
Oh iya, disini kalian juga bisa request lagu, anime, review, game, dll.. Untuk mulai request, silakan kunjungi 
[Link Berikut]
download ost masamune kun no revenge
download lagu ending masamune kun no revenge
ost masamune kun no revenge
download lagu masamune kun no revenge
ending masamune kun no revenge
shinpaku su 0822 mp3