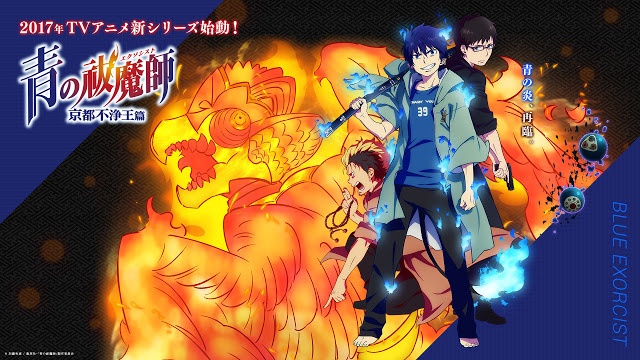 Yo Minna, selamat tahun baru 2017 ya.. Nah, di awal tahun ini mimin ingin berbagi lagu Ost opening dan ending Anime terbaru yaitu Ao no Exorcist: Kyoto Fujouou-hen. Lagu Opening nya dibawakan oleh UVERworld dan berjudul Itteki no Eikyou (一滴の影響). Sedangkan endingnya dinyanyikan oleh Rin Akatsuki yang judulnya Kono Te de (コノ手デ). Anime ini merupakan season 2 dari Ao no Exorcist.
Yo Everyone, happy new year 2017.. Yosh, on this new year i wanna share about "Ao no Exorcist/Blue Exorcist : Kyoto Fujouou-hen" opening and ending songs. The opening song Itteki no Eikyou sang by UVERworld, and the ending song Kono Te De sang by Rin Akatsuki. This Anime is Second season of Ao no Exorcist / Blue Exorcist.
Well guys, let's check it out!
Baiklah, langsung saja ini dia lagunya!
Lagu Opening (Opening Song)


"Itteki no Eikyou (一滴の影響)" by UVERworld
Lagu Ending (Ending Song)


"Kono Te de (コノ手デ)" by Rin Akatsuki
Yosh minna, itulah dia lagu soundtrack opening dan ending Ao no Exorcist: Kyoto Fujouou-hen nya. Link download akan diperbaharui ke versi full ketika sudah tersedia. Jadi langganan disini ya 😀
Yosh, that's it, if you found that's still not full version, don't worry, the link will be updated to Full version when Available, so just subscribe this blog and you will get the notice when the full version updated.
download op ao no exorcist s2
download ost ao no exorcist season 2
download opening ao no exorcist season 2
download ost ao no exorcist
download lagu opening ao no exorcist season 2
download ost ao no exorcist S2
ost ao no exorcist season 2
download lagu ao no exorcist s2
download lagu ao no exorcist
download opening ao no exorcist 2
ost ao no exorcist
download lagu opening ao no exorcist 2
opening ao no exorcist season 2