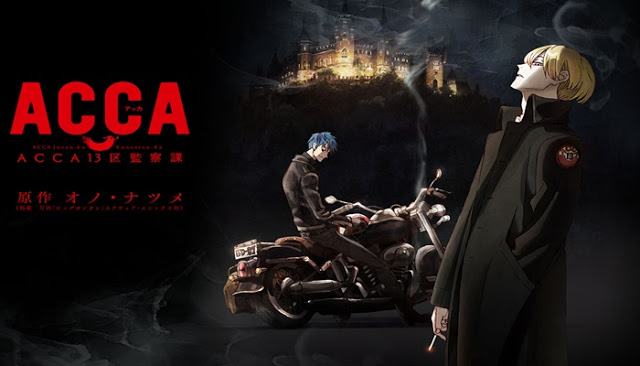 Yo Minna, kali ini mimin ingin berbagi lagu Ost opening dan ending Anime terbaru yaitu
ACCA: 13-ku Kansatsu-ka [ACCA 13区監察課]. Lagu Opening nya dibawakan oleh ONE III NOTES dan berjudul "Shadow and Truth" . Sedangkan endingnya dinyanyikan oleh Aira Yuuki yang judulnya "Pale Moon ga Yureteru (ペールムーンがゆれてる)". 
Yo Everyone, this time i wanna share about "ACCA: 13-ku Kansatsu-ka [ACCA 13区監察課]" opening and ending songs. The opening song "Shadow and Truth" sang by  ONE III NOTES, and the ending song "Pale Moon ga Yureteru (ペールムーンがゆれてる)" sang by Aira Yuuki.
Sinopsis:
Kerajaan Dowa, yang dibagi menjadi 13 negara, yang merayakan ulang tahun ke-99 Kerajaan-nya. 13 negara ini memiliki banyak lembaga yang dikendalikan oleh organisasi raksasa yang dikenal sebagai ACCA.
Dalam ACCA, Jean Otus adalah komando kedua lembaga inspeksi. pihaknya memiliki sepuluh orang ditempatkan di masing-masing 13 negara, dengan kantor pusat di ibu kota. Mereka melacak semua kegiatan ACCA di seluruh kerajaan, dan menyimpan data pada kantor ACCA masing-masing negara yang mengalir ke arah kantor pusat. Jean juga sering memiliki perjalanan bisnis dari ibukota ke kabupaten lain untuk memeriksa situasi dan personil di sana.
Synopsis:
The kingdom of Dowa, which is subdivided into 13 states, is celebrating its monarch's 99th birthday. These 13 states have many agencies that are controlled by the giant organization known as ACCA. Within ACCA,
Jean Otus is the second-in-command of the inspection agency. His agency has ten people placed in each of the 13 states, with a central office in the capital city. They keep track of all the activities of ACCA across the kingdom, and keep data on each state's ACCA office flowing toward the central office. Jean also often has business trips from the capital to the other districts to check on the situation and personnel there.
Well guys, let's check it out!
Baiklah, langsung saja ini dia lagunya!
Lagu Opening  (Opening Song) ACCA: 13-ku Kansatsu-ka


"Shadow and Truth" by ONE III NOTES
Lagu Ending (Ending Song) ACCA: 13-ku Kansatsu-ka


"Pale Moon ga Yureteru (ペールムーンがゆれてる)" by Aira Yuuki
Yosh minna, itulah dia lagu soundtrack opening dan ending ACCA: 13-ku Kansatsu-ka nya. Link download akan diperbaharui ke versi full ketika sudah tersedia. Jadi langganan disini ya 😀
Yosh, that's it, if you found that's still not full version, don't worry, the link will be updated to Full version when Available, so just subscribe this blog and you will get the notice when the full version updated.