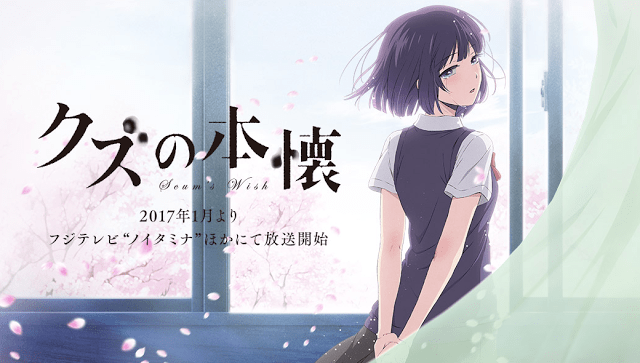 Yo Minna, kali ini mimin ingin berbagi lagu Ost opening dan ending Anime terbaru yaitu
Kuzu no Honkai [クズの本懐]. Lagu Opening nya dibawakan oleh 96neko dan berjudul "Uso no Hibana (嘘の火花)" . Sedangkan endingnya dinyanyikan oleh Sayuri yang judulnya "Heikousen (平行線)". 
Yo Everyone, this time i wanna share about "Kuzu no Honkai [Scum's Wish]" opening and ending songs. The opening song "Uso no Hibana (嘘の火花)" sang by  96neko, and the ending song "Heikousen (平行線)" sang by Sayuri.
Sinopsis Cerita:
Mugi Awaya tujuh belas tahun dan Hanabi Yasuraoka muncul menjadi pasangan yang ideal. Mereka berdua cukup populer, dan mereka tampaknya cocok satu sama lain dengan baik. Namun, orang luar tidak tahu rahasia mereka berbagi. Mereka berdua Mugi dan Hanabi memiliki rasa suka tak terbalas pada orang lain, dan mereka hanya berkencan satu sama lain untuk menenangkan kesepian mereka.
Mugi jatuh cinta dengan Akane Minagawa, seorang guru muda yang menjadi guru privat di rumahnya. Hanabi juga cinta dengan seorang guru, seorang pemuda yang telah menjadi teman keluarga sejak dia masih kecil. Di satu sama lain, mereka menemukan tempat di mana mereka dapat berduka untuk orang-orang yang mereka tidak dapat mereka miliki, dan mereka saling "ikkeh ikkeh" didorong oleh kesepian. Akankah hal  itu tetap seperti ini untuk mereka selamanya?
Synopsis:
Seventeen-year-old Mugi Awaya and Hanabi Yasuraoka appear to be the ideal couple. They are both pretty popular, and they seem to suit each other well. However, outsiders don't know of the secret they share. Both Mugi and Hanabi have hopeless crushes on someone else, and they are only dating each other to soothe their loneliness. Mugi is in love with Akane Minagawa, a young teacher who used to be his home tutor.
Hanabi is also in love with a teacher, a young man who has been a family friend since she was little. In each other, they find a place where they can grieve for the ones they cannot have, and they share physical intimacy driven by loneliness. Will things stay like this for them forever?
Well guys, let's check it out!
Baiklah, langsung saja ini dia lagunya!
Lagu Opening (Opening Song)
"Uso no Hibana (嘘の火花)" sang by  96neko
Lagu Ending (Ending Song)
Heikousen (平行線)"
Yosh minna, itulah dia lagu soundtrack opening dan ending Kuzu no Honkai nya. Link download akan diperbaharui ke versi full ketika sudah tersedia. Jadi langganan disini ya 😀
Yosh, that's it, if you found that's still not full version, don't worry, the link will be updated to Full version when Available, so just subscribe this blog and you will get the notice when the full version updated.
ost kuzu no honkai
download ost kuzu no honkai
download ending kuzu no honkai
download lagu ending kuzu no honkai
download lagu ost kuzu no honkai
download lagu kuzu no honkai
kuzu no honkai ost