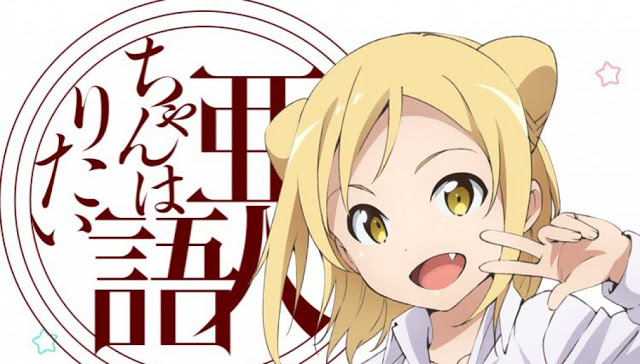 Yo Minna, selamat tahun baru 2017 ya.. Nah, di awal tahun ini mimin
ingin berbagi lagu Ost opening dan ending Anime terbaru yaitu Demi Chan wa Kataritai.
Lagu Opening nya dibawakan oleh TrySail dan berjudul "Original. (オリジナル。)". Sedangkan endingnya dinyanyikan oleh Sangatsu no Phantasia yang judulnya "Fairy Tale (フェアリーテイル)".
Yo Everyone, happy new year 2017.. Yosh, on this new year i wanna share about "Demi Chan wa Kataritai" opening and ending songs. The opening song "Original" sang by TrySail, and the ending song Fairy Tale sang by Sangatsu no Phantasia.
Sinopsis:
Cerita terjadi di sebuah zaman di mana "Ajin" (demi-manusia), atau biasa dikenal sebagai "Demi," telah perlahan-lahan mulai menjadi diterima ke dalam masyarakat manusia. Tetsuo Takahashi adalah seorang guru biologi yang berakhir menjadi pengajar tiga Demi tersebut, berharap untuk memahami lebih banyak tentang mereka sementara juga mengelola untuk mendapatkan perhatian mereka.
Synopsis:
The story takes place in an age where "Ajin" (demi-human), more casually known as "Demi," have slowly started to become accepted into human society. Tetsuo Takahashi is a biology teacher who ends up teaching three such Demi, hoping to understand more about them while also managing to catch their attention.
Well guys, let's check it out!
Baiklah, langsung saja ini dia lagunya!
Lagu Opening  (Opening Song) Demi Chan wa Kataritai


"Original. (オリジナル。)" by TrySail
Lagu Ending (Ending Song) Demi Chan wa Kataritai

"Fairy Tale (フェアリーテイル)" by Sangatsu no Phantasia
Lirik Terjemahan – Lyrics Translation : Coming Soon
Yosh
minna, itulah dia lagu soundtrack opening dan ending Demi Chan wa Kataritai nya. Link
download akan diperbaharui ke versi full ketika sudah tersedia. Jadi
langganan disini ya 😀
Yosh,
that's it, if you found that's still not full version, don't worry, the
link will be updated to Full version when Available, so just subscribe
this blog and you will get the notice when the full version updated.
download ost demi chan
download ost demi chan no kataritai