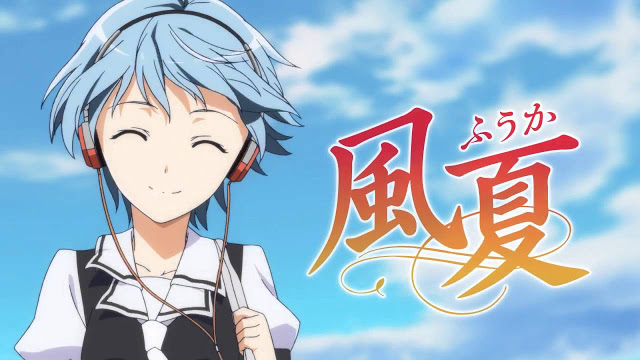 Yo Minna, selamat tahun baru 2017 ya.. Nah, di awal tahun ini mimin ingin berbagi lagu Ost opening dan ending Anime terbaru yaitu Fuuka. Lagu Opening nya dibawakan oleh Manami Numakura dan berjudul Climber's High!. Sedangkan endingnya dinyanyikan oleh Megumi Nakajima yang judulnya Watashi no Sekai (ワタシノセカイ).
Yo Everyone, happy new year 2017.. Yosh, on this new year i wanna share about "Fuuka" opening and ending songs. The opening song Climber's High! sang by Manami Nakamura, and the ending song Watashi no Sekai sang by Megumi Nakajima.
Sinopsis:
Yuu Haruna baru saja pindah ke kota dan dia suka menggunakan Twitter. Diperjalanannya keluar untuk membeli makan malam, ia menabrak seorang gadis misterius, Fuuka Akitsuki, yang menghancurkan handphone nya karena mengira Yuu mengambil gambar dari celana dalamnya. Bagaimana perubahan hidup barunya sekarang?
Synopsis:
Yuu Haruna just moved into town and loves to use Twitter. Out on his way to buy dinner, he bumps into a mysterious girl, Fuuka Akitsuki, who breaks his phone thinking he was trying to take a picture of her panties. How will his new life change now?
================================
Bagi yang belum nonton animenya, Download Fuuka Subtitle Indonesia Lengkap Disini :
================================
Well guys, let's check it out!
Baiklah, langsung saja ini dia lagunya!
1. Lagu Opening (Opening Song) Fuuka
"Climber's High!" by Manami Numakura
2. Lagu Ending (Ending Song) Fuuka
"Watashi no Sekai (ワタシノセカイ)" by Megumi Nakajima
Yosh minna, itulah dia lagu soundtrack opening dan ending Fuuka beserta Ostnya nya. Link download akan diperbaharui ke versi full ketika sudah tersedia. Jadi langganan disini ya 😀
Yosh, that's it, if you found that's still not full version, don't worry, the link will be updated to Full version when Available, so just subscribe this blog and you will get the notice when the full version updated.
ost fuuka
download ost fuuka
download lagu fuuka
download ost anime mp3
download lagu ost fuuka
download lagu anime fuuka
ost anime mp3
download ost anime fuuka
ost anime fuuka
Fuuka ost
lagu fuuka
download lagu opening fuuka
download soundtrack fuuka
Download opening fuuka
download op fuuka
soundtrack fuuka
download lagu fuuka fair wind
fuuka ost download